As developing countries advance, telecom networks are being extended to remote rural areas. Without reliable power infrastructure, operating telecom stations in these areas can be tricky. 3Tech's LionRock Telecom Energy Solutions fulfilled the strategic needs of telecom operators.
Project Background
During the last quarter of 2018, 3Tech received a few tender requests from a major telecom operator in North Africa. The customer was looking for an innovative energy solution in combination of renewable energy with reliable back up power to address the energy need of their over 1000 remote telecom towers around the country.
3Tech offered complete hassle-free turnkey energy solutions. One of the solutions combined the solar power with large capacity energy storage as the main system power plus the reliable LionRock diesel generators as back up.
The customer selected 3Tech's solution over the competition, because it offered minimal operating expenses (OPEX) at the best capital expenditure (CAPEX) as well as a fully equipped local service team.
System Configuration
The Energy Solution consists of :
Power Input System
Solar power input, LionRock AC power generator input, and potential future power grid input when available.
Large area solar panels with cleaning robot in desert installation.
Energy Storage System
VRLA Batteries, lithium battery, battery racks, battery monitoring and charging system.
Smart Control and Energy System
LionRock control system integrated Field Surveillance Unit (FSU), Solar Power Unit (PU), AC-DC Rectifier, DC/DC as well as DC/AC inverters to consolidate all power sources into high quality DC power supply for all telecom equipment and other AC powered auxiliary needs.
A. Site investigation
In order to ensure the design meets the requirements of the tough site environment and site limitations, the 3Tech project team visited representative sites and carried out necessary investigation to ensure the system design will suit the site environment and limitations.
B. Factory and production facility inspection
Apart from 3Tech's Dongguan factory, customer's delegates also visited our downstream suppliers including battery factory, solar panel factory and sheet metal fabrication facilities to ensure the system will be built from the highest quality of material and workmanship.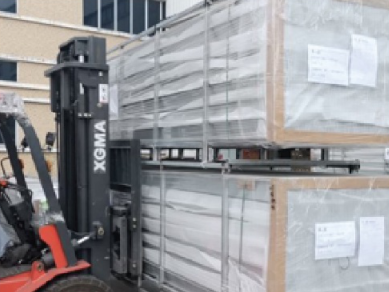 C. Logistic challenge
Over a hundred containers of goods will be shipped from various factories from Shanghai, Xiamen and Shenzhen port in each phase. All equipment should be clearly labelled and packaged not only for custom clearance but also for accurate delivery of various components to each site with the original wooden packing.